Today we met with Ran Li Ping, Water Resource Protection Project Officer at the Green Camel Bell (GCB), a Chinese environmental NGO based in Lanzhou (Gansu Province).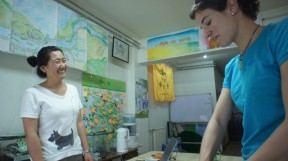 The Green Camel Bell's work is focusing on environmental education and communication, community development, water resources protection, post-earthquake reconstruction (Sichuan Province was struck by a major earthquake in 2008) and grassland management.
Ran Li Ping was one of the founding members of the organization when it started in 2004, she has been acting as project officer for the last 3 years.
On a Sunday afternoon, in burning Lanzhou, she accepted to answer our questions :
Green Camel Bell ?!?
Yes, this is quite a strange name ! But it means a lot to me : green is the colour of our dreams ; the camel is a very resistant animal which was used notably on the Silk Road to connect people ; its bell allows anyone to know where it is. In short, this name symbolizes hope.
An example of your work ?
Soon after we founded the organization in 2004, we launched the « fruit cards ». With the participation of several universities, we launched a public campaign for not wasting paper on Christmas cards : we encouraged people to send a fruit instead…That was an original idea and it worked !
We have also set up trainings on environmental investigation for university students. The idea is to encourage everyone to be more aware of environmental issues, to become a sort of watchdog.
We want our work to contribute to poverty alleviation and community development. We are building up cooperative societies with peasants to help rural communities to acquire better skills and knowledge on eco-agriculture, and also to gain a stronger voice through cooperatives. Now we begin to get support from local autorities at the county level.
How is GCB funded ?
As we are registered as a non-profit organization, we are not allowed to collect money from the public. So, we are sponsored by foundations, scholarships, and private donors. We have some important partners such as Global Greengrants Fund, Ford Foundation and Waterkeeper Alliance among others.
What are the main challenges you encounter as an environmental NGO in China ?
The political climate in China is better than before. However, there are only 2000 to 5000 environmental associations, networks or movements of some kind (including registered NGOs). GCB is the first grassroot NGO in China. We have to report to the Government very regularly and this takes up a lot of our time.
Obviously, financing is also a big issue. Finding money, writing proposals and reports also takes up a lot of capacity and energy.
Our work is well developed at the community-level. What we now need is a way to reach the general public in order to get support and active participation in our campaigns.
Your motivation is still intact after 3 years ?
I am too busy to even think about doing something else! I like the GCB spirit. It is young, we talk a lot and exchange ideas freely. We try to be very practical in our work: we try to innovate and apply ideas directly to the field.
It's Sunday… what are you doing in the office !?!
In China there is a saying: "The girls sometimes work like boys… while boys sometimes work like donkeys!
Learn more about the Green Camel Bell on http://gcbcn.org/en/
VB